In today's fast-paced environment, most frontline workers are equipped with mobile computer solutions. However, there are times when a desktop layout (larger monitor, keyboard, headset) makes sense. Until now, companies have needed to invest in a separate desktop PC for their workers. Good news: Zebra's clever new Workstation Connect is a docking station which enables the worker to plug in a mobile device and immediately convert it to a full-featured desktop PC environment. The ROI case is simple: worker efficiency is improved, with simultaneous opportunities to improve customer satisfaction.
Workstation Connect is compatible with a broad range of Zebra Technologies mobile computers, including current TC handhelds and ET tablets.
How Workstation Connect Works
It's simple to use: simply drop a Zebra mobile device into the dock, and it will connect to the monitors and peripheral devices. Users immediately receive the productivity benefits of a workstation, the ergonomic benefits of larger screen and keyboard/mouse, and the ability to simultaneously work on different apps on the desktop and mobile device!
Workstation Connect Features
Intuitive desktop interface
Flexible HDMI monitor support
Supports various data-entry modes
Supports Android, web-based, and more
Secure: admin control over peripherals allowed and the desktop
Rugged design will stand up to day-to-day usage
Accommodates a range of Zebra mobile computer and tablet models
The workstation docking cradle includes ports for powered USB, HDMI, Ethernet, an audio jack, and cable management. Various configurations are available to dial in the precise feature set you need for your business requirements.
The Workstation Connect Desktop – Not Just a Larger Mobile Screen
It's important to note that the Workstation Connect dock doesn't just make the Zebra mobile device screen larger… it creates an entirely new screen layout, which will be familiar to desktop users. Application launch shortcuts can be positioned on the desktop. Application can be opened in re-sizable windows, a familiar taskbar is present. All of the features which users make common use of at a desktop are present.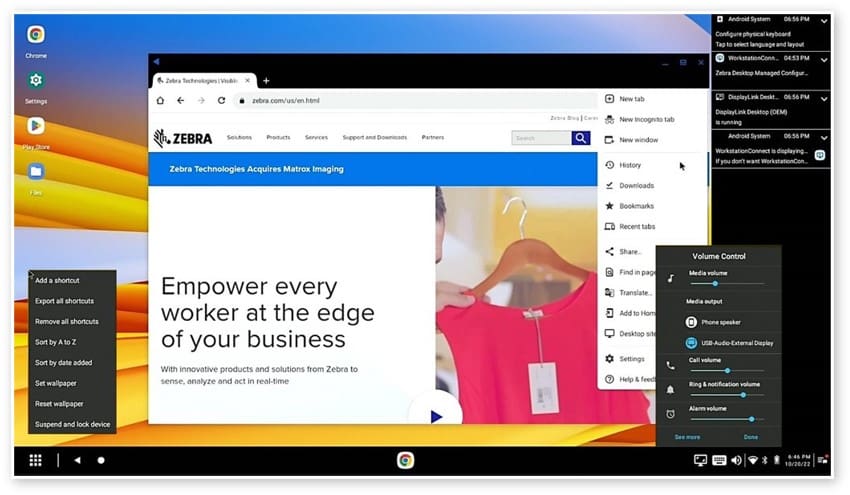 Enterprise-Grade Administrative Control
As would be expected from a Zebra Technologies product, Workstation Connect offers powerful levels of admin control. You can control configuration through mobile device management (MDM) software. You can determine with precision which applications and levels of user access are allowed. You can control the look and feel of the user desktop in order to ensure conformity and easier training. Workstation Connect also includes a USB Host Manager which ensures that only authorized devices are connected – this reduces potential security risks cause by employees introducing risky peripherals.
Applications for Zebra Workstation Connect
Warehouses and Distribution Centers – managers and material handlers get flexible access to a workstation for label printing, data entry, communications, and reports
Public Safety – first responders can use an in-vehicle workstation for computer aided dispatch (CAD), records management system access (RMS), and law enforcement applications
Retail – store associates gain flexibility for point of sale, returns processing, communications, and more
Hospitality – create dynamic check-in/checkout stations, point of sale, and guest assistance
Healthcare – nurses and providers gain EHR access, admissions/discharge forms, scan barcodes, and kiosks for patient check-in
To further increase the power of this workstation docking cradle, combine it with a mobile powered cart from Newcastle Systems, also available through CSSI.
Learn More About Zebra Workstation Connect
To learn more about Workstation Connect, and to arrange a personal demo, please contact CSSI. We will work with you to understand the requirements of your frontline workers and create a winning solution.