Enhance User Productivity with Wearable Tech
Wearable technology has been repeatedly proven to boost worker productivity through the reduction of wasted motion. In fast-moving operations, seconds saved per transaction rapidly add up to significant output improvements. CSSI Technologies offers a range of wearable technologies, from ring scanners to hand-work small computers to voice-control software.
Benefits of Wearable Technology & Voice Control
Every warehouse operation is different, and thus the benefits of a wearable tech implementation will vary. But commonly, these benefits are seen:
Reduce wasted motion: Wearables reduce the need to continuously pick up and interact with a mobile computer.
Improve the worker experience: It's hard to attract and retain workers. Employees appreciate working with modern technology, particularly when it reduces frustration and wasted effort.
Reduce training time: Wearables are intuitive to use and can help to reduce new employee training time.
Wearable Technology Options
There are several categories of commonly-used wearable solutions: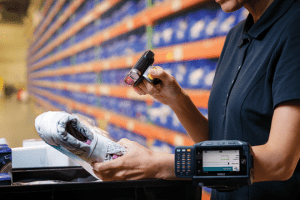 Ring scanners
Hand- or finger-worn scanners link to a mobile computer and enable faster scanning.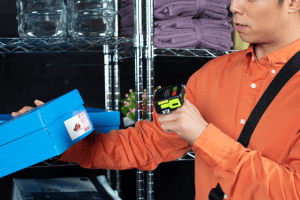 Hand-worn computers
Powerful mobile computer and scanner which is worn on the hand. Consolidates devices.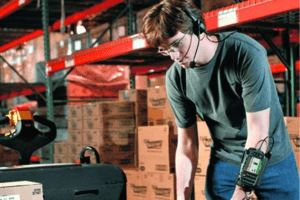 Voice control software
Minimizes user's need to interface with the device screen. User stays on task with fewer distractions.
Planning Your Wearables Project
Wondering how to get started with your first (or next) wearable technology project? Here's a series of steps which will lead to a successful project. The CSSI team is able to help you from the outset of the project through deployment and ongoing tech support.
Identify an ideal workflow: Optimal wearable tasks involve frequent scanning operations and benefit from the user keeping his or her hands free. Fulfillment and picking operations are frequently targeted.
Measure current-state productivity: Establish a productivity baseline at the project outset so you can compare your benefits during the pilot.
Run a pilot project: A well-designed pilot project allows you to thoroughly test the wearable solution and gain feedback from a range of end-users.
Check pilot project productivity: Compare the metrics of the pilot project against current-state metrics in order to project overall company ROI.
Deploy with confidence: With a well-designed project and CSSI's deployment support, you will be able to deploy the wearable solution with confidence… and then seek opportunities to target further workflows.
Why Choose CSSI for Your Wearables or Voice Project?
The CSSI Technologies team has many years of experience implementing mobile computing and data capture technologies in a broad range of industries and environments. We partner with the leading providers of wearable technology in order to ensure successful project pilots and deployments for our customers. Post-deployment, we provide technical support and guidance to ensure your success.
Contact CSSI To Discuss Wearable & Voice Control Technologies
Let's set up a time to discuss how the CSSI team can support your implementation of wearable or voice control technology. We look forward to speaking with you.