CSSI Simplifies Internal Transportation with Advanced Mobile Robots
CSSI Technologies is now a source for autonomous mobile robots offered by MiR (Mobile Industrial Robots). Founded in 2011, MiR is a leading manufacturer in the development of robotics technology for internal logistics. MiR offers a robust line of AMR base units which can transport pallets, racks, and carts, improving productivity by reducing your usage of human-controlled material handling equipment such as forklifts, hand trucks, pallet jacks, and static conveyor systems.
As the US mid-Atlantic region's premier source for supply chain mobile computing and data capture technology, CSSI is excited to further expand its suite of product offerings for the warehouse, manufacturing facility, and distribution center, now including MiR mobile robots. CSSI will consult with you to identify your best task candidates for industrial automation, and will work with you to demo and configure the ideal AMR solution.
MiR Robot Applications & Advantages
MiRs autonomous robots (such as the MiR100 robot) are suitable for a broad range of internal logistics tasks, such as parts-to-line, kitting/picking, putaway, pallet transport, and trash removal. The automation of these internal transport tasks allows you to redeploy expensive human workers to higher value activities, and reduces challenges in keeping the workforce adequately staffed.
MiR mobile robots are easy to implement, even in highly dynamic environments with heavy loads. CSSI will work with you to assess and map your facility, and program your desired workflows. You can have an initial workflow up and running for a powerful robot within hours. As your needs expand, it's extremely easy to grow your AMR fleet – simply deploy new units.
Overlapping Safety Mechanisms
Safety considerations are critical for an autonomous mobile robot, particularly when the unit will be working in environments shared with people. A MiR robot can be deployed without special training for your co-workers. Starting with your facility map: you can designate zones for preferred travel, as well as no-go or go-slow zones. The AMR's array of sensors and powerful onboard software will always stay attentive to the local environment, as the robot optimizes or alters its planned path if obstacles are detected.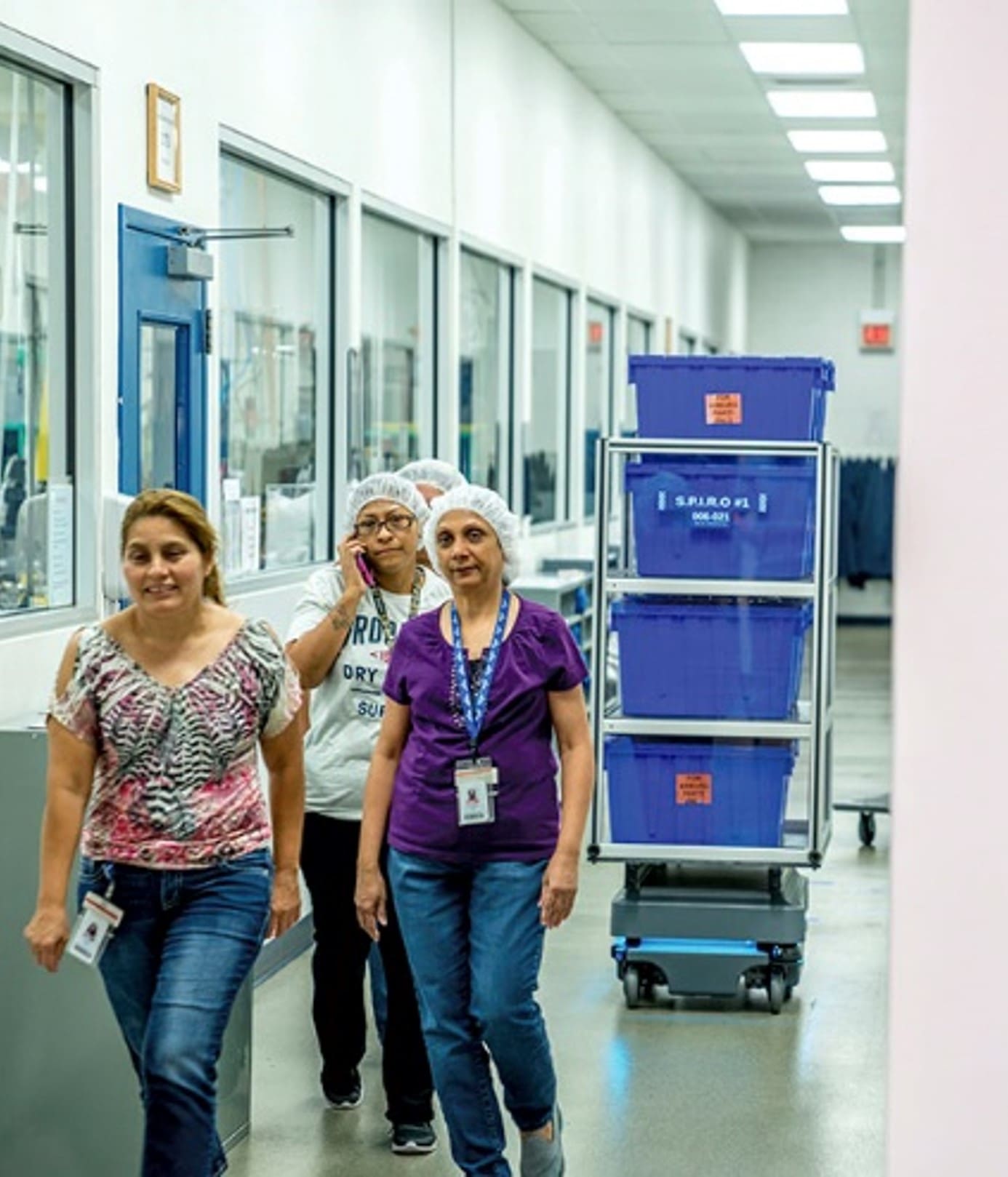 MiR mobile robot utilizes 3 separate types of sensors to visualize the environment and recognize obstacles and hazards. Dual-laser scanner, 3D camera, and proximity sensors are combined to create a digital picture, which MiR's powerful AI engine uses to determine the best and safest course of action.
Function-Enabling AMR Add-Ons ('Top Units')
The core MiR autonomous mobile robot products are combined with one of many types of 'top units'. These are functional add-ons which integrate with the robot to enable particular functionality – such pallet lifts or a collaborative robot arm. MiR offers a catalog of top units created by itself as well as 3rd parties. This creates a broader set of solutions, and allows you to assign different tasks to your autonomous robot over time as your needs change.
Powerful MiR Fleet Software
Each MiR robot has on-board AI and motion control software which enables you to configure and control the unit. However, if you will use multiple robots in the same facility, MiR Fleet software brings an increased ability to coordinate and optimize the actions of the mobile industrial robot fleet.
Prioritize which autonomous robot handles given automation tasks based on position and availability
Plans and coordinates the use of different top modules
Connects to your WMS, ERP, and PLC's. Integrate with other software through REST API.
Can handle a fleet of up to 100 robots
Schedule Your MiR Robot Introduction
You can learn more by visiting our dedicated Mobile Industrial Robots (Mir) page. The team at CSSI is ready to discuss the use of MiRs autonomous robots to improve your internal logistics and material handling productivity. Please contact us to schedule your in-person robotics demo today.