There are known GP issues caused by March 2021 Windows updates:
When you print documents in GP that contain images, black boxes appear instead of the images. The temporary workaround was to roll back the update.
Another issue was you might receive an APC_INDEX_MISMATCH error with a blue screen, and possible PC crash, when attempting to print to certain printers in some apps. This issue affects a subset of Type 3 printer drivers and does not affect printer drivers that are Type 4.
Microsoft GP Fix for March 2021 Windows Update
On Friday, March 19th, Microsoft released a fix for these updates. However, the fix is having issues on Auto Updates for windows right now, which they hope to resolve soon, but you can install it if you want manually.
To install, go to Resolved issues in Windows 10, version 20H2 and Windows Server, version 20H2 | Microsoft Docs and find the version of Windows you on the left and expand it. Then select Resolved issues: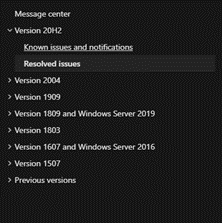 Find the "Unexpected results when printing from some apps or to some printers" issue in the list of resolved issues, and click on the link to the Resolved KB:
This will take you to a page which outlines what Windows version was released to fix the black box issue (should all show March 18th as the release date):

This update is not installing through the automatic Windows Update installer correctly, so you will want to install using the Microsoft Update Catalog, which is linked at the bottom of the page:
This will take you to the final page in the process, with a list of various installs. Find the one that matches your environment (i.e., 32 or 64bit), and click the download button the right.
Any questions? Contact CSSI for GP support.