Imagine if you could have a robust set of interactive, easy-to-distribute, colorful reports and dashboards pulling data from your Microsoft Dynamics GP accounting system? Now you can, courtesy of Power BI and the Power BI Report Pack available through CSSI. See the pre-recorded webinar below for a detailed walk-through of this game-changing product.
Microsoft Power BI is Microsoft's flagship, Data Analytics, and AI Reporting platform. Using this platform, we have created the Power BI REPORT PACK for Dynamics GP. The REPORT PACK is a suite of 100+ PRE-BUILT, turnkey, interactive dashboard reports for surfacing and analyzing all of your GP data. (GL, AR, AP, Sales Analysis, Forecasting, Budgets, Bank Recon, Inventory, Purchasing, Project Accounting, and Trend Analysis)  
* Also features Multi-Year analysis, contrast and comparison.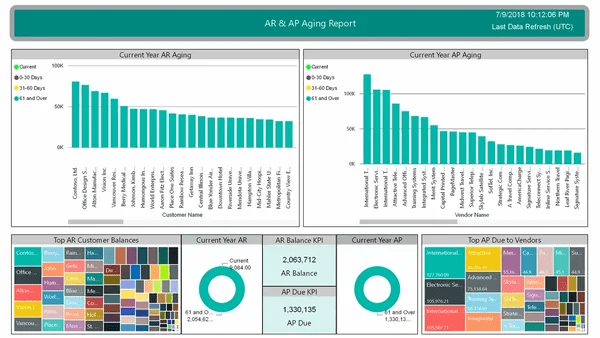 The Report Pack features stunning interactive graphs, actionable Data Insights, AI Analytics, Forecasting (predictive analytics) and drill through detail reports giving you an unprecedented 360-degree view of your data allowing you to make quicker and more informed decisions. You have never seen your data like this before.