How to scan documents within GP
Are you aware of how easy it is to scan and attach documents to Dynamics GP transactions and master records? This new Document Attachment functionality was added in GP 2013 R2. All you need is a Windows Image Acquisition (WIA) enabled scanner/printer and a little bit of setup.
1. Document Attachment Setup
To enable Document Attachment, go to Microsoft Dynamics GP > Tools > Setup > Company > Document Attachment Setup
Check the "Allow Document Attachments" box
Press the F1 key (or go to Help > About This Window) for more information on the other setup options in this window
2. Using Document Attachment
Open almost any GP window, select a record then click on the Attach button
Or, click on the Notes icon then click the paper clip icon here
Click on the Scan button in the Document Attachment Management window
If you already have a scanned image of a paper document, you can click on the Attach button to browse to that image file.
You can then view the status of an attachment by clicking on it to select it then click on the blue arrow to the right of Date. This will show you the date and the time a user has attached, deleted or scanned the image. If, in the setup, you marked to allow a document to flow, this inquiry screen will also show the date and time the document flowed to a transaction.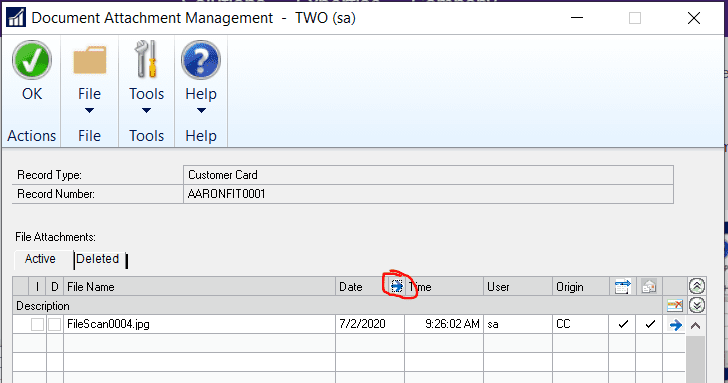 Once a record has an attachment, the Attach image changes to this

We hope that this helps with document management! Now that you know how to scan documents within Dynamics GP, is there other support or training which your team needs? CSSI's team of Dynamics GP experts is standing by to support you. Contact us today to learn more.