Too many lingering customer balances on your A/R Aging Report?
Do you need to clean up your AR Aging report? Do you have small, lingering customer balances on your report? If so, you can use the Write-Off's feature to eliminate them.
You'll first want to be sure a customer is set up to allow write-offs. Go to the Customer Maintenance Options window and select either Unlimited or Maximum (requires a maximum amount to be entered.)
Go to Sales > Routines > Write Off Documents. You can run this routine to process write-offs for many customers at once or for one customer at a time. The routine will create either a Debit Memo or a Credit Memo, depending on whether the customer has a negative or positive account balance.
Choose whether you want to write off Underpayments or Overpayments. Next, select whether you want to create one write-off (debit memo or credit memo) per customer or per document being written off. In the Write-Off Limit field, enter the maximum outstanding balance for documents to be included. Documents with a document date on or before the Cutoff Date will be included.
Click on Preview to view, mark, or unmark the customers to write off balances for.
Click on Process to create the write-off documents.
You can also write off amounts while entering a Cash Receipt transaction. In the Apply Sales Documents window, if you have an Amount Remaining, you can enter that amount in the Writeoffs field.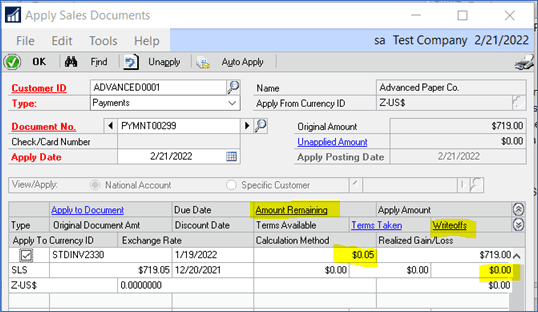 Contact CSSI For Help
Have questions or need help with A/R write-offs? Contact CSSI for GP help.