Removing Discontinued Inventory Items
Do you have inventory items that you would like removed?  Did you know that there is a process to accomplish this in Dynamics GP? Here's how:
You can start preparing items to be removed during the year-end process by changing the item type to Discontinued.  Go to Inventory > Cards > Item.  Change the Type to Discontinued.
Items are tracked the same as Sales Inventory items in that you can still sell Quantities On Hand.  You can also enter adjustments for the item and can delete the item when the quantity reaches zero.

You can also remove Discontinued items during the Inventory Year-End process.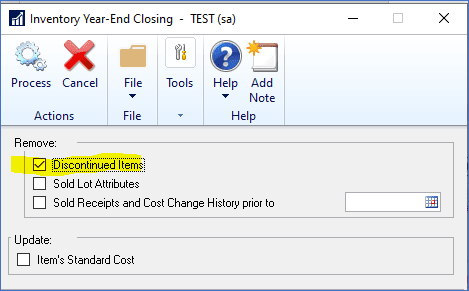 Mark this option to remove the records for discontinued items that have been completely sold. Items assigned the discontinued item type will be removed from the item records during the year-end closing process, unless there are quantities of the item, or one of the following is true:
The item does not exist on an open transaction (sales document, purchase order, unposted inventory transaction).
The item is assigned to a kit.
The item is a component of a bill of materials.
The item has one or more bills of materials of its own.
Need More GP Help?
Please contact CSSI for more GP help. We'd be glad to help with your questions, and provide Great Plains support.