GP Tips: Verifying 1099 Vendor Info
Year end is approaching fast. Get a head start by preparing your vendors for 1099 printing.
Verify that vendors who should get a 1099 are set up as a 1099 Vendor in GP.
Confirm that all 1099 vendors have addresses and tax ID's
Order your 1099 forms
You can view a list of 1099 vendors, and their information, with a SmartList. GP provides you with a "1099 Vendors*" SmartList. Just add columns for additional information, such as Tax ID Number, Address, etc.
If a vendor is missing a Tax ID Number, double-click on that vendor to open the Vendor Maintenance window then click on the Options button. Enter the Tax ID.

If you need to change both the vendor 1099 tax type and 1099 data, use the Update 1099 Information utility. Go to Purchasing > Utilities > Update 1099 Information. Select to update "Vendor and 1099 Transactions". Select the From and To options. Enter a Vendor ID range then click on Insert. Click on Process to make the updates.

BE SURE to insert a restriction. If you don't, a message will appear reminding you that you haven't entered a restriction. If you click Yes to continue, ALL vendors that have the "From" tax type will be updated to the new tax type.
An audit report will print showing all the AP transactions that were updated.

You can edit a vendor's 1099 amount by going to Purchasing > Cards > 1099 Details and selecting a Vendor ID. Be sure the correct Year is entered. The Display option must be set to Month in order to edit the amounts below.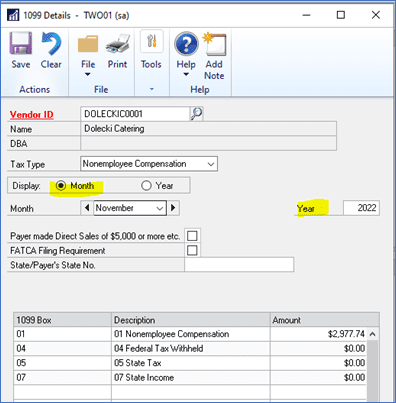 You can also change the 1099 status of individual transactions by going to Purchasing > Transactions > Edit 1099 Transaction Information. Select a Vendor ID. Enter any restriction needed by Voucher Number, Document Number or Date. Click on the down arrow in the Tax Type column and select the new type for that document. Click on the lookup beside Box to select the appropriate box number to be used for the new tax type. Click on Process.
NOTE: If you install the 2022 year-end update, you'll have the ability to print 1099's with lines and boxes!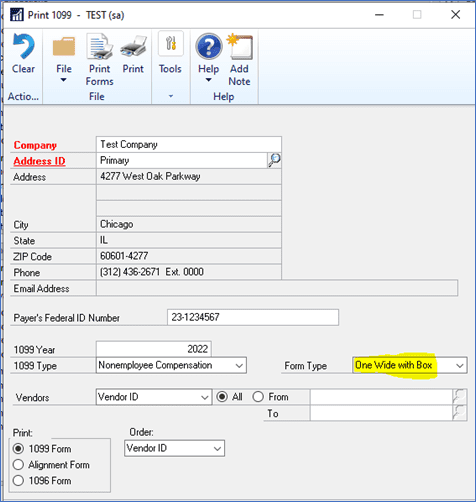 Need GP Support?
CSSI's team of GP experts is ready to help you with all of your GP questions and challenges. Save time and frustration by engaging CSSI for support, training, and updates. Contact us today!