Using GP Allocation Accounts
In GP, you can use a Fixed or Variable Allocation account to automatically distribute fixed or variable percentages of a transaction among several distribution accounts.
1. Fixed Allocation
Go to Financial > Cards > Fixed Allocation
Enter an account number and description
Enter each Distribution Account and its percentages
Click on Save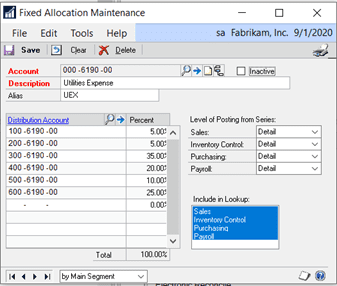 2. Variable Allocation
Go to Financial > Cards > Variable Allocation
Indicate whether you want to calculate the percentages based on the year-to-date balance or on the transaction period balance of each breakdown account
Select the series where you expect to use this allocation account; the allocation account will appear in all lookup windows in the selected series
Enter the distribution account (the account that will be posted to)
Enter breakdown accounts by selecting a distribution account then enter the corresponding breakdown account on the right. (The balances of the breakdown accounts determine the percentage that will be posted to each distribution account.)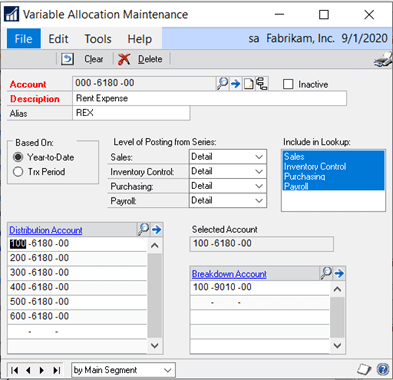 3. Using GP Allocation Accounts
When you use an allocation account in a transaction, you won't see the breakdown of the distributions until the transaction is posted to general ledger
An allocation account cannot be assigned as a distribution account for another allocation account
You CAN assign an allocation accounts to a vendor as a default purchasing account
Allocation accounts do not carry a balance
Need support with GP allocation accounts or any other GP topic such as management reporter, or GP upgrades? CSSI's team of friendly experts is ready to help. Contact us to get started today.